Sometime early last year,  I saw someone in a tutu skirt paired with a lace top and high heels, and my first thought was "ha ha, how can this agbaya turn a ballerina outfit into a fashion statement when you are not  Sarah Jessica Parker in sex and the city " then I did a double take to really look at her, and I was like "well,  it looks good sha, just a bit puffy"
Little did I know that the Tutu skirt actually made its debut as a street wear in 1984 when Madonna rocked a white Tutu Skirt for her performance at the MTV Music Awards. Immediately after that show, girls all around the world jumped on the tutu train, and like every other trend, it soon fizzled out before the 90's.
In spring 2014 and 2015, the trend actually peeped into the season, but this year it came into the season with full force
I remember a couple of months ago when I wore a Tutu skirt (the not so puffy one – i can't still get myself to wear that big one yet with my hips!) on a night out with the hubby, he looked at me and said "hmmmm,you women eh!  oh well what do I know about fashion" I knew right there and then I was going to get a lot of heads turning , more out of curiosity than admiration or disdain.
When we got to Federal Palace Hotel for "the night a Kazbah" everyone who walked past us and had seen my back view turned around to check out what the front of my outfit looked like, and when I say everyone, I mean men both men and women. (if I knew it was going to get me that much attention, I probably would have worn that skirt sooner,lol)
Now that the tutu skirt is here to stay, I thought to share with you three different ways you can rock your Tutu skirt.
If you don't own one already, don't worry, House of Ravissant has got you! Click here and here to purchase.
STYLE ONE
Wear it with a Plain/Crop/Lace top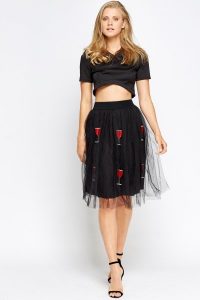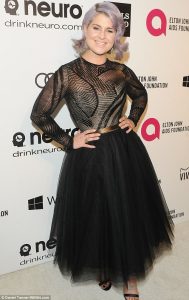 TWO
For a Retro chic look, wear it with a denim/leather jacket and camisole.
THREE
Want to feel like a princess, at dinner, the red carpet or even as a wedding guest, try out the long tutu skirt with a plain top and you sure can add a bow for effect!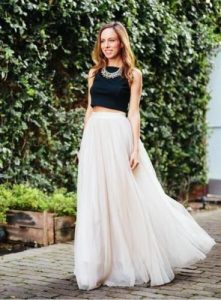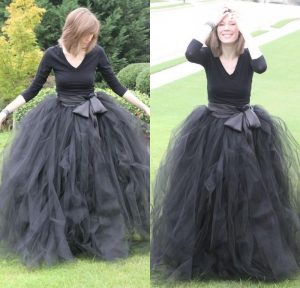 But I really must say, my favourite look of all time is Rihanna in the Tutu dress below. Love the way the tutu flails out under the corset, and judging from the looks from New York fashion week 2016, we will be seeing loads of corsets in 2017.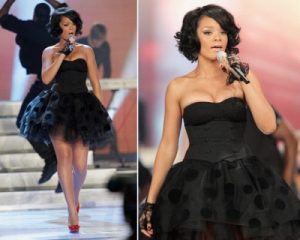 So what are your thoughts about the Tutu skirts, do you think its an overkill or a trend you will like to try.
Looking forward to reading from you in the comment section below.